JBOSS RICHFACES 3.3 PDF
April 9, 2019
RichFaces Downloads. It is highly recommended to use the latest stable releases as each release contains many bug fixes, features, and updates. Enhance your JSF web applications using powerful AJAX components Build a new RichFaces JSF project in minutes using JBoss RichFaces with JBoss Seam . JBoss RichFaces [Demetrio Filocamo] on *FREE* shipping on qualifying offers. This is a practical tutorial following the use of RichFaces in a.
| | |
| --- | --- |
| Author: | Shakree Masida |
| Country: | Saint Kitts and Nevis |
| Language: | English (Spanish) |
| Genre: | Spiritual |
| Published (Last): | 19 December 2009 |
| Pages: | 89 |
| PDF File Size: | 11.86 Mb |
| ePub File Size: | 13.12 Mb |
| ISBN: | 855-9-72157-169-6 |
| Downloads: | 71788 |
| Price: | Free* [*Free Regsitration Required] |
| Uploader: | Kibar |
Unfortunately, this gadget does not work for RichFaces. In case of discovering a serious issue you will have to develop a patch yourself or switch to another framework. RichFaces has three major version branches: ValueBinding is not whitelisted.
While there are jjboss two major JSF implementations i. Related articles available on mastertheboss.
code white | Blog: Poor RichFaces
This vulnerability is a straight forward Java deserialization vulnerability. As the patch to CVE introduced in 4.
A Richfaces Web application needs of course a Web project.
The latest releases of the respective branches are 3. VariableMapperImpl was added in 4. Copy and paste the following XML in your web.
There will be no patches after the end of support. Rifhfaces resource data transmitted in the request must be an org. Both vulnerabilities rely on the feature to generate images, video, sounds, and other resources on the fly based on data provided in the request.
Posted by Markus Wulftange at 3: Richfaces datatable example Richfaces datatable example The Datatable is used to show. When a resource of that type gets requested, its send ResourceContext method gets called.
JBoss RichFaces 3.3
There is no protection in place that would prevent one from tampering with it. VariableMapperImpl were added in 4.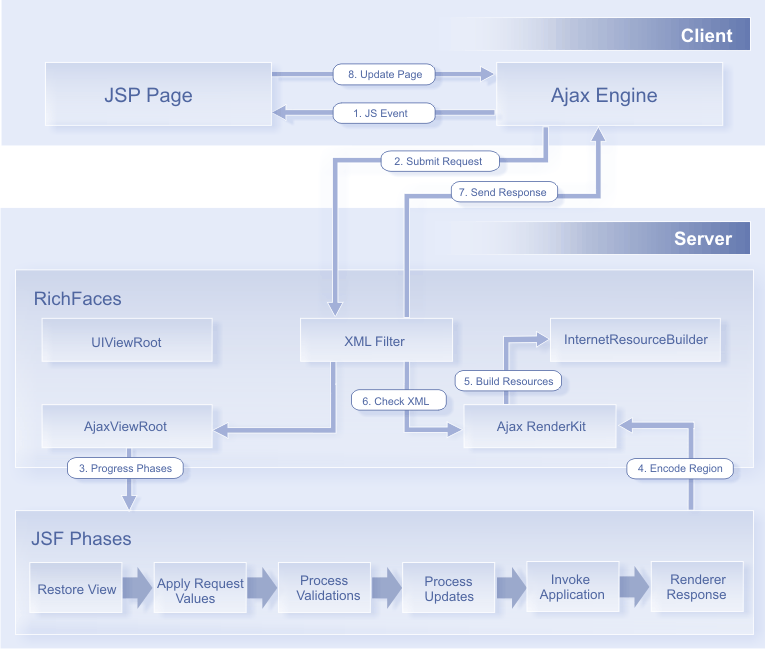 First, the book introduces you to JBoss RichFaces and its components. JBoss Tools has a plugin specific for Rich Faces. Tags GadgetVulnerability Details. Configure your Web application's web.
With Safari, you learn the way you learn best. And wrapping it in a StateHolderSaver does not work because the state object is of type Object[] and therefore the cast to Serializable[] in StateHolderSaver. The patch for this issue introduced in RichFaces 4. Also note that the issues are not public but only visible to persons responsible to resolve security issues. This passes the whitelisting as ImageData extends org.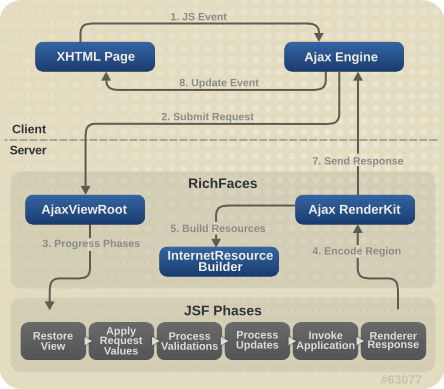 In this short tutorial we will show how easily you can get started with Richfaces 3. It will show you how to get the most out of JBoss RichFaces by explaining the key components and how you can use them to enhance your applications. This book is more than a reference with component example code: Codec does support DES encryption if a password is set.
The arbitrary Java deserialization was patched in RichFaces 3. The kind of the past vulnerabilities led to the assumption that there may be a way to bypass the mitigations.